We are very pleased to be able to share this wonderful project designed and produced by the Yarra Link Project's first official  collaborative student, Rowan Turnham. Keep your eyes peeled for this amazing waste catchment system soon to be installed along the Yarra River!
To read more about Rowan's project visit his website Amass Design
For individuals or groups interested in collaborating with the Yarra Link Project please feel free to contact us.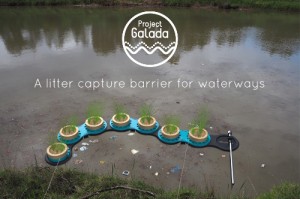 Project Galada is an adaptable litter capture barrier designed to trap and contain floating litter. The increasing pollution in Melbourne's water environments is drastically affecting the health and quality of its water. Inspired by bike chains the modular pods link together and incorporate cylindrical planter pots that provide a buoyant eco-system for endemic aquatic plants to provide bio-filtration for the Yarra River. Capturing and collecting litter accumulating on water surfaces will help preserve and improve the health, biodiversity and quality of Melbourne's waterways for the future.