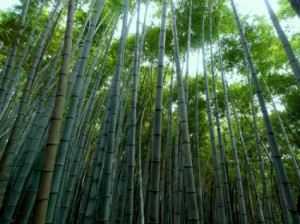 We love the idea of innovation in art and design using natural materials. Often it seems innovation revolves around taking old ideas and reimagining them to create something that's both new and old. It can also be really exciting to see people taking materials that are traditionally used for one thing and repurposing them for something else.
We've recently come across the work of a designer called Elora Hardy who leads a team of designers and builders at Ibuku who work with bamboo as a building material for housing and other structures. Ibuku is based in Bali and incorporates the skills of traditional Balinese craftspeople in the design and construction of their bamboo buildings.
These building are really exquisitely made and show how the unique qualities of a particular material can be considered and incorporated to produce wonderfully modern designs that synthesise aesthetic qualities and functionality. We're really inspired by these ideas and will take a leaf (pun intended) from ibuku's book in how we think about design and materials and how we use them.
You can see some of Elora Hardy's designs and learn more about Ibuku and bamboo at:
www.ibuku.com
Check out her contribution to TED conferances:
https://www.youtube.com/watch?v=zvKngNF78Dg